by Anushree Ghosh
Early Life
We know about Mata Hari's sagas of seducing soldiers and getting privy to secrets that could change international equations, but behind that is the heart of a weeping mother who was separated from her daughter.
Born as Margaretha Geertruida Zelle to Adam Zelle, Mata Hari was pampered with expensive gifts as a child. She learned manners, handwriting, music, and etiquette in her private school. The glorious days of her life had a short shelf-life and Zelle family had to face the consequences of bad investments. The ultimate daddy's girl living a luxurious lifestyle became just another person surviving on the basic necessities of life. It was the beginning of becoming controversy' favorite child – at the age of 16, she was associated with the headmaster (52-years-old) of the school. And, was perceived as a seductress, ignoring the fact that she was barely 16.
Courtesy : Pinterest
Failed Marriage
Possibly, it was the society that led her to use her 'sexuality' as a tool, and she continued living unapologetically, At the tender age of 19, she sent a gorgeous picture of her in response to an ad seeking a bride for Rudolf MacLoed (Captain from the Dutch East Indies). The wedding did take place but the rocky-companionship only brought miseries for the woman who garnered attention due to her good looks. She gave birth to a son who died soon, as the story goes, he was poisoned by the household worker. Margaretha found solace in taking care of her daughter, but she was forcibly taken away by her husband, and by the early 1900s, Mata Hari fled to Paris.
Mata Hari : the exotic temple dancer
It was during this time that Mata Hari became famous for her exotic temple dance that enchanted the men of Europe. Her undressing during the act came to be known as a 'spiritual act.' Her acts were surreal with the audience deeply engrossed watching her immersed in her art. Inspired by Java culture, Mata Hari positioned herself as a style icon who connects to the divine source through her art form. This is how she managed to ditch the obscenity laws of that time.
"My dance is a secret poem in which each movement is a word and every work is underlined by music. The temple is which I dance can be vague or faithfully reproduced as it is tonight, for I am the temple."

– Mata Hari
Courtesy : dailymail
World War I
Those were the glorious days of Mata Hari who became the desirable to many filthy-rich men of the time, who would have given anything to be with a mistress like her. She paved her way to the aristocrats of the society– businessman, military officers, and diplomats. She traveled across Europe and performed nearly in every capital city in front of an awestruck audience.
With the outbreak of World War I, many French families were struggling to manage the basic amenities of life with the fathers, brothers, and sons sent to war; but Mata Hari maintained her extravagant lifestyle. She was definitely aging but that didn't affect the dark desires that she instigated amongst the men. But Mata Hari failed to realise that the society has altered and that too within a span of 1-2 years, international politics and wars not only affect the state but disturbs the equilibrium of every individual who is a part of the system.
Mata Hari as The Spy
Not trained as a spy, Mata Hari had little knowledge of the international espionage business, but she was roped into the field for personal benefits and agendas. She met Karl Kroemer (German consul) who offered her 20.000 Francs in exchange for becoming a spy for Germany. This was a half-deal as she accepted the fund to live through her desires of possessing furs, jewels, and money again, that the Germans had seized; but she did not agree to become the spy. Notably, this doesn't become a counter-argument for those who accuse her of becoming a German spy.
A woman unbothered by stately matters, Mata Hari fell in love with the Russian captain, Vladimir de Massloff. In order to be able to meet him, she had to go through many high-officials and they told her that she would be allowed to meet him if she agrees to spy for France. She was told to go back to The Hague but no instructions were given to her regarding the passing of important information, she was almost abandoned with no clue as to how to take things forward.
On her way to Spain, she was stopped and interrogated at the British port. This was a Déjà Vu experience for her, a year back she was interrogated when she accepted the amount to become a German spy. This raised the level of suspicion amongst the officials, and on top of that her recruiter betrayed her as well. On being held for a prolonged period, she accepted that she is indeed a spy for France.
Pic Courtesy : biography.com
The Tragic Death
Shunned by her recruiter, Mata Hari was declared a German spy and was arrested. She was shamed not only for being a double agent but was accused of being a man-eater. She was put in a rat-infested cell and treated atrociously. She was convicted with vague facts and no concrete evidence was presented related to her passing on secrets to German, but there were several arguments supporting her 'immoral conduct' and at last, she was sentenced to death – by firing.
As a matter of fact, The Germans did not actually give her any work that could have changed the course of war. Her decision to accept the offers made by the Germans and the French made her look non-trustworthy. If theories to be believed, the French recruited Mata Hari only to make her a pawn in the game of actual war. Exposing a foreign agent would mean a boost for the already hopeless French soldiers who were low in confidence.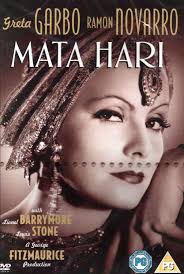 Greta Garbo as Mata Hari, Courtesy : fansshare.com
Mata Hari's story is not limited to the facts related to her life but it reveals the duplicity of social mores that declare a woman deprave and needy when she is open about her sexuality. Society creates the need and then leaves no stone unturned to exploit her vulnerabilities. If the war had not happened, she would have lived longer covering the pages of newspapers and magazines, oozing out an aura and creating a mythical character that ignites fantasies.