by Subhojit Sanyal
Directed by: Anurag Kashyap
Starring: Kalki Koechlin, Naseeruddin Shah, Gulshan Devaiah, Prashant Prakash
Method in madness.
By far the perfect way to describe this movie.
It is haunting, surely. It is safe, surely. It is something different — yes, that is perhaps the only thing one can be certain about.
With That Girl in Yellow Boots, Anurag Kashyap has charted some seriously dangerous waters. Both in theme and execution, and their collective consequent outcome — reception.
And does it work, or does it get a little too much? And then we get to deal with the golden question with the simple solution — "what is too much?"
But that's not the point really. The point is to explain and break it down, to be digested slowly, trying to keep up with the pace of the movie, get the brain cells jogging in there, slowly, very slowly.
In a nutshell, if you want to watch That Girl in Yellow Boots, you cannot decide to sit this one out. Kashyap has called for war with your sobriety, you should come prepared.
The point that I must emphasise is the mere panache of the entire gamut. This movie just trickles through like sawdust — edgy, yet harmless — and weaves its way through several parallel passages, to finally bring you to an open-ended answer — confirmed into confusion by the conspicuous silence of the affected protagonist.
And that is where lies the brilliance of the movie. No longer does the filmmaker reduce himself to fit into his audience, now the filmmaker expects his audience to side with him. And this is no democracy, this is an expression — and in this medium, in this mode, we need subjective expressions, not objectively collective wholes.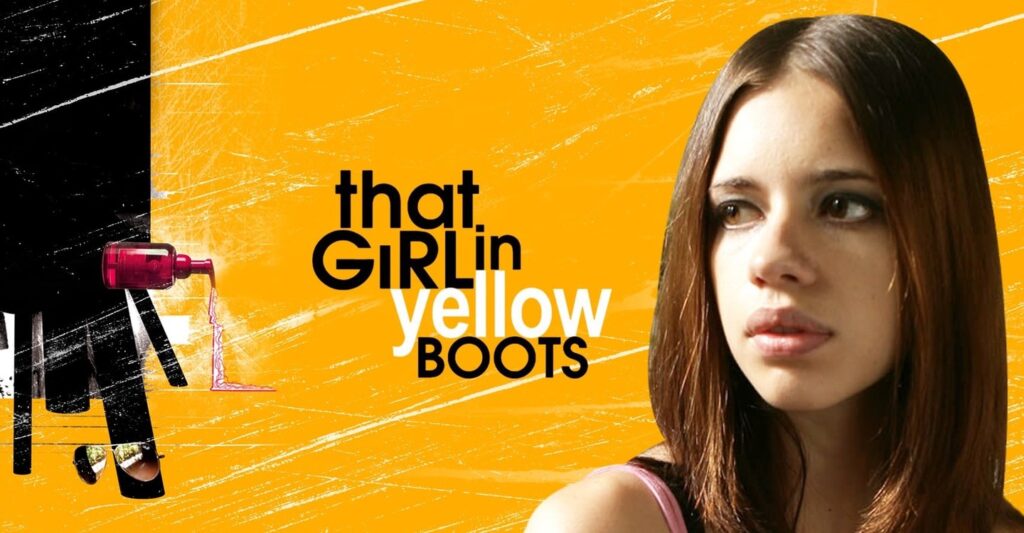 Courtesy : justwatch
The steady growth chart of Anurag Kashyap surely sees the biggest jump with this movie. Now it no longer remains on Dev D's ample shoulders to bail him out. With That Girl in Yellow Boots, Kashyap carves out newer avenues into the Indian film industry.
And this may also seem to be the first movie ever made in Bollywood without any stars at all. It's a whole palette of characters, of people we are so accustomed to that we can't seem to know which point to take special notice of. And to that he couples characters that are so real that they start to seem fabricated — in a good way — into some metaphysical plane. That, is where I believe, lies the sheer genius of the movie.
This movie is just not about the story, it is about her story. And Kalki Koechlin tells it as it is — as if it were the true story of the Ruth we see before us. It is for the first time that I have ever seen a movie where the character becomes so real, so well played, that the actress disappears. This does not happen often, but just remains a magical illusion that we never get to realise in the other movies we watch. Koechlin is sheer poetry in motion.
And then of course, we have the nameless characters, whose names register, but they are meant to be later forgotten. Because these are people you know, and you tend to forget them because you already have representatives etched in your brain — even if you do not know any cocaine sniffing loser, you do have your own mental picture. Likewise!
But each one of them greater revelations than the other. The loser boyfriend who talks and weeps, who shows the exterior of a hollow shell; the Kannada 'i-want-to-be-feared' moron, who is nothing more than a bum on flea's ass through and through. And yes, he checks with his "associates" on which Bangalore street was a certain Prabhu Deva song shot!
And of course, the ever dependable Nasseruddin Shah, who comes to a party by being absent. His coming and going on the screen possibly creates the greatest impact in the whole movie after Koechlin, being the punctuation that is always needed for the perfect sentence.
The visual magnificence of the entire city is sublimely tantalising. Dhobi Ghaat now seems like a pretence of Mumbai, but That Girl in Yellow Boots shows the city the way we have known it to really be. Because even without saying it, the city does form an important protagonist in mostly all movies that are ever canned. Because without the setting, the centre cannot hold. Even the music that adds to the psychedelic mystique created by Anurag Kashyap. It acts like salt — you won't die if it's not there in your food, but hell you want it!
That Girl in Yellow Boots, clearly Anurag Kashyap's greatest latest.
Come with guts, come to think, come to be blown away!